How to Make Blogging Profitable
By David Hilty, Published March 16, 2021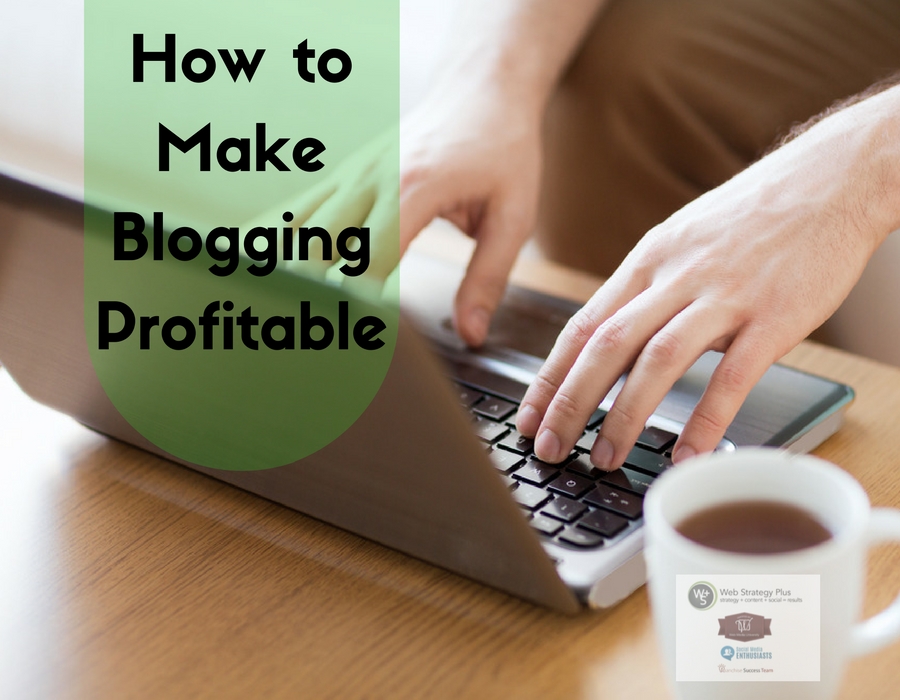 It wasn't that long ago when blogging was still an activity that was pretty far outside the mainstream. Although there were already some very successful bloggers, most people didn't understand this method of publishing or the technology behind it. Fast forward to the present, and it seems like everyone is at least familiar with blogging.
Whether it's an individual who wants to write about the things that interest them or a business that wants to use blogging to bring in more leads, blogging can be quite profitable. However, that doesn't mean it's showering money on individuals or businesses. For every success story you read, there are countless other blogs across the Internet with little results to show for the effort invested.
Because blogging has matured a lot as a medium, it's definitely harder to get traction with it in 2016. But that doesn't mean it's impossible. At Web Strategy Plus, we've seen just how profitable blogging can be for clients across a range of industries. Based on those experiences, I want to share some tips for making blogging profitable that apply to both individuals and businesses:
Blogging For Individuals
If you want to write about your daily life and share it with others, a blog is a great way to do that. But unless you're an outlier like a celebrity or someone who already has a large audience, the chances of making this type of blogging profitable are slim.
For individuals who are interested in earning a side income from blogging, the best option is to start a blog around a focused topic. That topic can be something that you're already an expert in or want to learn. You can use your blog to build an audience and then eventually monetize it through advertising, digital products, selling services or even physical products.
Keep in mind that there's a big gap between earning side income and replacing your current income, so if that's your ultimate goal, you need to be patient and committed to the long-term.
Blogging For Businesses
One of the most common blogging mistakes we see businesses make is thinking that every post needs to be a sales pitch. Although it may seem a little counterintuitive, the best way for a business to make blogging profitable is to resist that temptation. The reason is most blog posts should be thought of as marketing instead of sales.
The businesses that get the best financial gains from blogging are those that use it to widen their reach and build an audience of targeted prospects. Then as they build trust with those people, they can pitch their product or service. Getting in this type of rhythm is why consistency is so important for businesses who want to get noticeable results from their blogging.
If you want to learn more about how Web Strategy Plus can help your business with blogging, I encourage you to take a look at our content marketing page.
Michelle Hummel is CEO of Web Strategy Plus a full-service digital marketing agency focused on Franchise Marketing. She was recently nominated for the Woman-Owned Business of the Year! She's a passionate Social Media Trainer with 15+ years of successful online business development, sales, and marketing experience. She also holds a valuable Internet Marketing Degree however with the ever-changing world of web marketing she strives to learn something new every day. 
She travels Nationwide visiting her 22 Social Media Enthusiasts Chapters delivering in-depth social media training. She also provides Social Media Certifications through founding Web Media University. A current contributing editor to The Franchise Dictionary Magazine and she has written 3 books in her series called, "The Social Media Magnet: Everything You Need to Know to Attract Customers with Social Media", where she shares her best-kept secrets to success. She also specializes in helping Franchisors and Franchisees develop an integrated web marketing program to drive leads. She's available for interviews via email, telephone, Skype video, news segments on location and more. Just let her know how she can help!

Upcoming Events
There are no upcoming events at this time.