LinkedIn Headline Optimization Tips for LinkedIn Marketing
By Michelle Hummel, Published December 6, 2021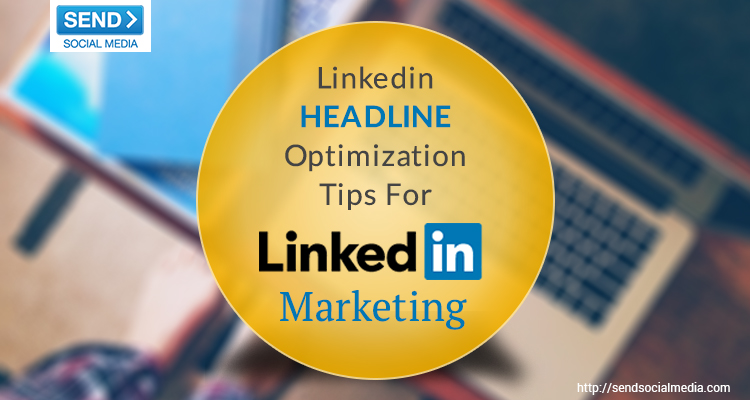 Headlines are very important. Statistics show that changing a single word in an email headline can improve clickthroughs by as much as 46%. Given that huge impact, it's easy to see why copywriting experts suggest that when you write a blog post, you should spend anywhere from twenty to fifty percent of your time on the headline.

Even though that may seem extreme, the reality is that people are bombarded with all kinds of things online. So you can write an amazing piece of content but if the headline of that content doesn't grab people's attention, they're not going to read it.
This same concept is especially true on social media sites. That's why we want to focus on LinkedIn today. We're going to share some advice for your primary headline, along with any content that you create and share on LinkedIn:
The Main LinkedIn Headline for Your Business

With your main business page, LinkedIn uses a default structure for your headline. However, you're free to write your own custom headline. And just as countless articles recommend people do for their personal profiles, we recommend doing the same for your business. In terms of what you should write, keep two goals in mind.
The first goal is to rank for relevant searches. So you should think of one or two keywords that are most important to your business and include those. The other goal is to maximize people clicking to your page. You can do that by crafting a headline that gives people a reason to want to learn more about your business.
4 More LinkedIn Headline Optimization Tips
Now that LinkedIn has become a destination for sharing and consuming content, you can really boost the visibility of your business by getting active with your own content efforts on the site. Whenever you're sharing something, there are four tips you'll want to keep in mind about the headline. The first is your headline should be unique. This is the starting point for standing out from all the noise.
Second, your headline needs to be as specific as possible. This will prevent people from clicking through, only to feel like the post doesn't live up to the headline (aka clickbait).
Third, convey a sense of urgency with your headline. Doing so gives people a reason to read now!
Finally, try to write a headline that's useful. Specifically, include a benefit that someone will get from reading the piece of content you're sharing
Using the LinkedIn Marketing Training , you'll be able to improve your performance on LinkedIn. To track just how well you're doing on the site, use the social media monitoring tool  to stay on top of that data and much more!
Michelle Hummel is CEO of Web Strategy Plus a full-service digital marketing agency focused on Franchise Marketing. She was recently nominated for the Woman-Owned Business of the Year! She's a passionate Social Media Trainer with 15+ years of successful online business development, sales, and marketing experience. She also holds a valuable Internet Marketing Degree however with the ever-changing world of web marketing she strives to learn something new every day. 
She travels Nationwide visiting her 22 Social Media Enthusiasts Chapters delivering in-depth social media training. She also provides Social Media Certifications through founding Web Media University. A current contributing editor to The Franchise Dictionary Magazine and she has written 3 books in her series called, "The Social Media Magnet: Everything You Need to Know to Attract Customers with Social Media", where she shares her best-kept secrets to success. She also specializes in helping Franchisors and Franchisees develop an integrated web marketing program to drive leads. She's available for interviews via email, telephone, Skype video, news segments on location and more. Just let her know how she can help!

Upcoming Events
February 21 @ 9:00 am

-

5:00 pm

February 22 @ 9:00 am

-

5:00 pm