Can Your Business Benefit From Facebook Live?
By Michelle Hummel, Published November 17, 2020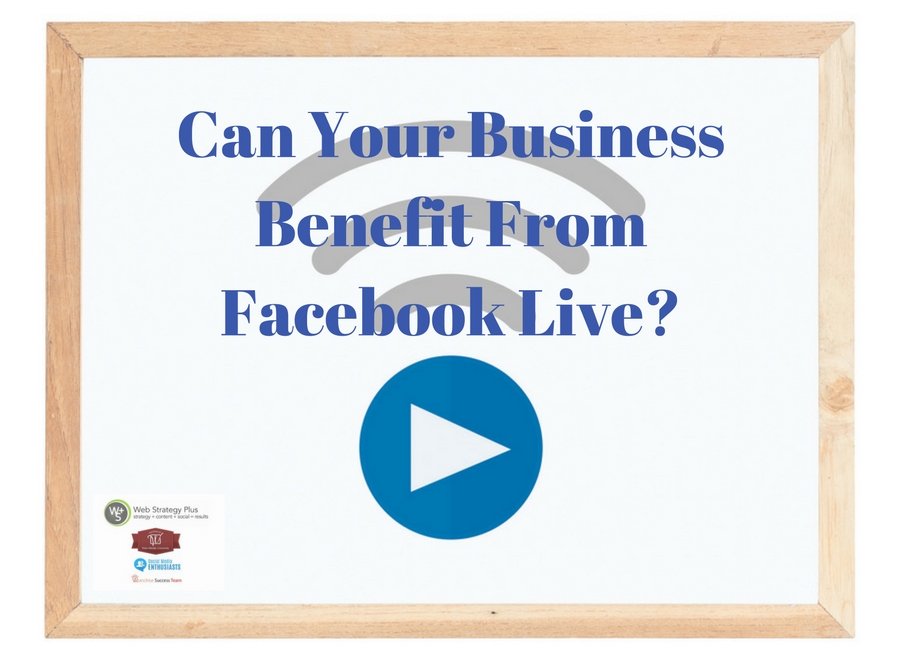 Over the last year or so, I've talked a lot about how video has become one of the biggest drivers of online activity. While pictures and posts like these are still consumed countless times every day, people are spending more time watching online video than ever before.
Since watching videos on the Internet is by no means something new, you may be wondering why it's recently become such a big trend. One aspect is how popular YouTube has gotten. With so many creators making content that's just as engaging as what people are used to watching on cable networks, YouTube has set the tone for other social media sites.
Another important factor is both broadband and mobile Internet speeds have continued to get faster. So instead of dealing with constant buffering, people can stream as much video as they want, including on their phones when they're away from home.
Because video is such a "hot" area right now, big online and media companies are looking for the best ways to harness it. One avenue is by facilitating live video. And even though other platforms had an earlier start, the company that's really throwing their resources behind this initiative is Facebook.  
The Basics of Facebook Live
Facebook Live provides a way to use your phone to start streaming through your Facebook page. You simply tap the icon, write a description and you're live to the world. Once you're done, Facebook allows you to save your video and permanently post it on your page. In terms of what's working for businesses, announcing going live at least a little in advance and providing lots of interaction with viewers keeps people watching and coming back for future streams.
Why Your Business Should Use Facebook Live
Now that you know more about Facebook Live, the other question to answer is if it makes sense for your business to use. In my opinion, you definitely should try it out! For one, it's easy to get started. Unlike even a basic YouTube video that's going to require some production, all you need is your phone and decent lighting to try out Facebook Live.
By hopping on, you can engage with your followers in a way that creates a truly personal connection. Whether it's for a product launch or to answer questions, going Live can help your business stand out. In terms of tips to follow, broadcast for a minimum of 10 minutes and then be sure to use the performance analytics that Facebook provides to figure out what's working, as well as what to change during future broadcasts.
If you have any other questions about Live or other forms of Facebook marketing, don't hesitate to reach out to me!
Michelle Hummel is CEO of Web Strategy Plus a full-service digital marketing agency focused on Franchise Marketing. She was recently nominated for the Woman-Owned Business of the Year! She's a passionate Social Media Trainer with 15+ years of successful online business development, sales, and marketing experience. She also holds a valuable Internet Marketing Degree however with the ever-changing world of web marketing she strives to learn something new every day. 
She travels Nationwide visiting her 22 Social Media Enthusiasts Chapters delivering in-depth social media training. She also provides Social Media Certifications through founding Web Media University. A current contributing editor to The Franchise Dictionary Magazine and she has written 3 books in her series called, "The Social Media Magnet: Everything You Need to Know to Attract Customers with Social Media", where she shares her best-kept secrets to success. She also specializes in helping Franchisors and Franchisees develop an integrated web marketing program to drive leads. She's available for interviews via email, telephone, Skype video, news segments on location and more. Just let her know how she can help!

Upcoming Events
September 24 @ 10:00 am

-

12:00 pm

September 28 @ 9:30 am

-

11:30 am